You're in safe hands with our team at Eastern Chiropractic on Doncaster Road in North Balwyn. We care for your health and wellbeing from the minute you step through the door.  Call 03 9857 4503 now for an appointment or click here to send a request online.
Our Chiropractors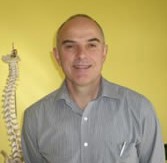 Nereo Rigoni leads the team in Chiropactic care at the clinic. Nereo's career as a Chiropractor was determined when he saw firsthand the benefits of Chiropractic care for his father. According to Nereo, "Dad sought Chiropractic care for a persistent arm complaint, and within a month his body had improved and his demeanour had changed. I'm pleased to say he has never looked back."
Since qualifying in 1983 as a Chiropractor from Phillip Institute of Technology (now RMIT University), Nereo has treated thousands of patients over the years in the eastern suburbs – nurturing them back to a healthy active life. He is a member of the Chiropractic Association of Australia and Associate Member of the Australasian College of Chiropractors.
Caroline Bell has over 20 years experience as a Remedial Massage Therapist and offers a range of massage services. With us since 2005, Caroline has treated patients using a variety of methods including myofascial trigger point therapy, deep tissue massage, relaxation massage, reflexology (to feet, hands & ears) auricular therapy, iris analysis, pregnancy massage and cupping. Caroline is a Graduate of the Australian School of Therapeutic Massage.
Dr. Sussen Ibrahim-Dost, Chiropractor, BHSc/ BAppSc (DC) with Distinction, B.An.Vet.Bio.Sc.
Sussen Ibrahim-Dost's chiropractic journey began 8 years ago when her partner, her grandma and herself where
quite ill. After going through many health professionals they finally stumbled upon a wise Chiropractor who
helped heal them all. He shaped their lives for the better and inspired her to embark on this journey to become a
chiropractor.
The philosophy, art and science of Chiropractic fit perfectly with her personal mission statement.
"Live with integrity and make a difference in the lives of others"
Academic achievements are:
Bachelor of Animal Veterinary Bioscience majoring in Microbiology and Zoology at La Trobe University,
Double Bachelor of Health Science/Applied Science Chiropractic with Distinctions at RMIT Univeristy, receiving
two outstanding academic achievement awards in Chiropractic, Clinical Excellence award 2018 and invited to
become a Golden Key International Honour Society member due to academic achievement at RMIT.
She has gone to over 20 seminars/workshops and short courses that have filled her weekend studies for the last 5
years to fully immerse herself with current health research and studies to find out what is the best way one can
live and thrive with an outstanding fully functioning nervous system.
As we know when our brain and spinal cord are functioning at optimum we are able to self heal, regulate and
adapt to our ever-changing evolving environment.
She has completed 265hours of yoga teacher training to help her patients restore independence with
individualized chiropractic flows and movements to enhance function and prevent exacerbations in order to
maintain independence in their lives in a fun interactive way.
Working as a practical anatomy teacher at RMIT University helping Health Science students from years 1 and 2
has enhanced her depth of knowledge on the human body and its physiology.
In Sussen's spare time you will find her running, reading and taking care of her beautiful dogs Ruby, Roxy and
Raven. She has a special interest in natural human movement and a primal way of living.
She hopes she can continue to inspire people to become advocates and examples of proactive health care and to
educate families that to prevent is always better than to treat.